Advertising Personnel Development・Dispatch Service
We invest in personnel training with our unique program, which makes it possible for us to dispatch personnel who is capable of advertising review as well as advertising submission and placement.
We dispatch human resources with expertise in advertising who have been trained in [Advertising Specialization Personnel Training Program] created based on 10 years' work experience related to advertising such as submission and review.
This program aims to train human resources to gain expertise like Pharmaceutical Affairs Act and Act against Unjustifiable Premiums and Misleading Representations so that they can review an advertising.
In addition, it can educate human resources to be able to proofread a content of an advertising and provide scrupulous support such as pointing out part of a content that might be considered a violation of the law, making an alternative suggestion, and sharing information regarding the relevant law.
Furthermore, This program can enhance quality of review and improve work business efficiency by promoting self-development and helping human resources get a certification of "Pharmaceutical Affairs Act Administrator" and "Cosmetics and Pharmaceutical Affairs Act Administrator"
Work Flow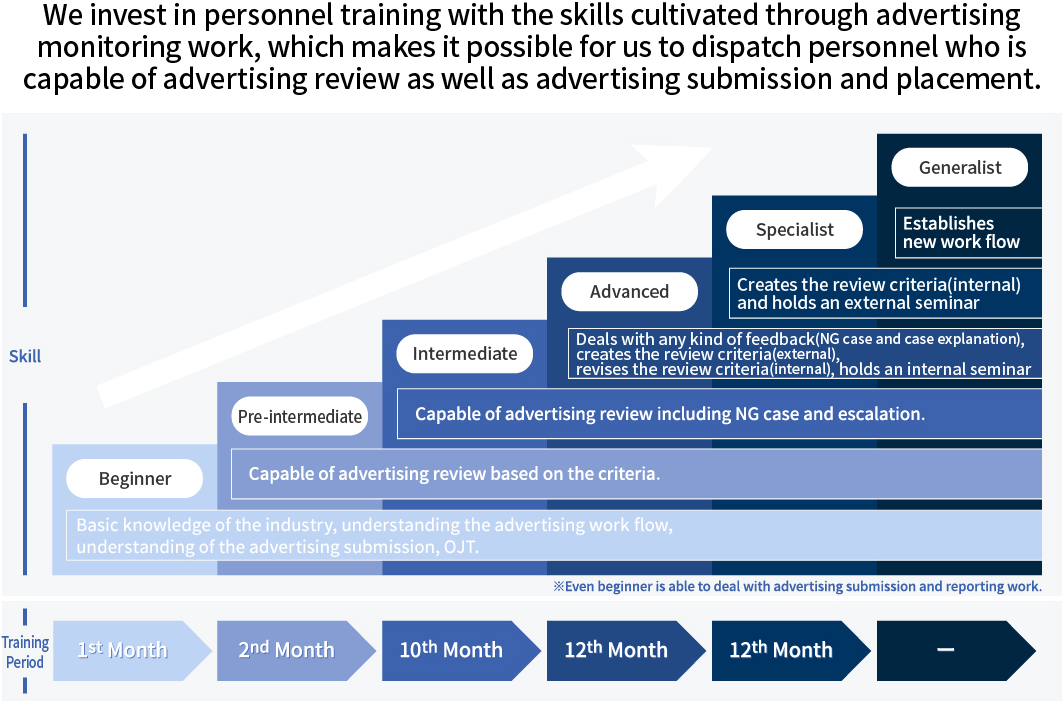 The Service's Strengths and Features
1. Expertise acquired through 10 years' work experience related to advertising
Personnel Training based on special program composed of expertise cultivated through work experiences
2. Adaptability to any kind of work environments
Dispatching makes it possible to adapt to any locations and diverse work tool even in case it is difficult to outsource due to information security
3. Familiarity with the latest advertising trend and Amendment of the relevant law
We can catch information about the latest advertising trend and amendment of the law since we are a member of Japan Interactive Advertising Association (general incorporated association) and Japan Advertising Review Association(public interest incorporated association)
Advertisement Input and Output Management
Professional staff in the field of advertising will provide support from drafting advertisements up until the introdution of RPA.
"Advertisement Submission and Placement Management" provides outsourcing services of various advertising operation tasks for advertisers, agencies, DSP, SSP, ad network, ad technology operators, and media offering publication spots. Our employees have previously worked in the advertisement industry and will support you all the way from communicating in technical terms to managing advertisement orders, submission, and reporting. If you plan to introduce RPA, we provide a total solution to selection, design, and building of RPA tasks.
Business Flow Chart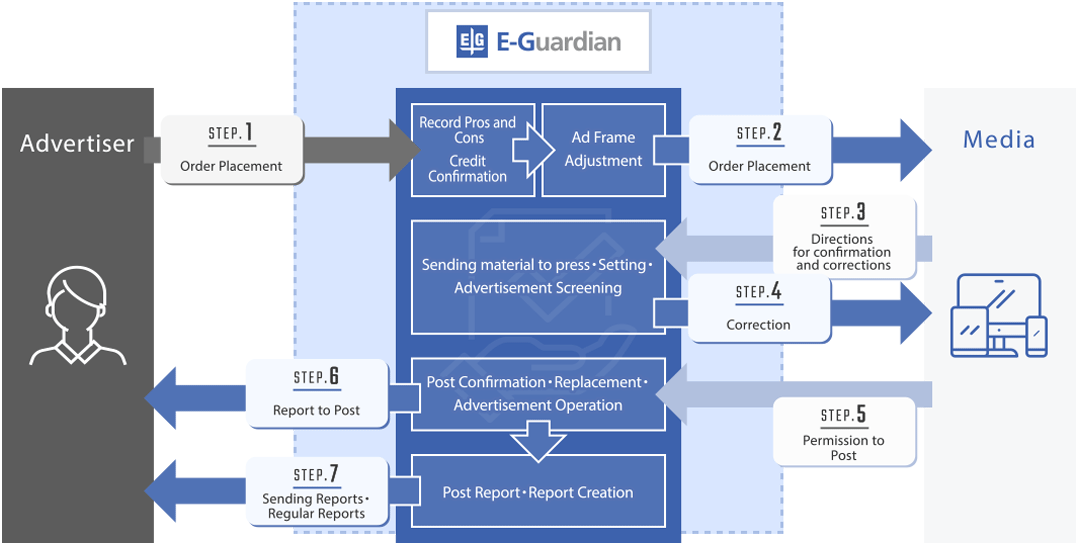 Team framework by the staff experienced in the business field
Many of our staff have experienced advertising industry and are familiar with the business, so we reduce your load eliminating mistakes by communicating with the the common language.
Support consulting for RPA introduction and reducing the cost
We will provide support for reducing the running cost by the throughout consulting for suggestion, construction, and operation of the optimal RPA system to meet your needs. In the test in our company, we obtained the result that it reduces the running cost by one third.
In addition, by collaborating with the Philippine Center and utilizing local competent engineers, you can reduce the initial cost as well.
Making a manual for standardizing quality
By classifying flow of the business and making it visible, we do not have to assign staff and make the quality standardized. We make a manual for characteristics of each media.
Management of contribution and output of articles for 24 hours in 365 days
We work on the case where an article is contributed in a hurry, shortage of resource due to increase of work and request that we have to check at midnight promptly and flexibly. We can also adjust number of bidding on Saturday and Sunday in accordance with consumption of budget for managing advertisement as well as handle the work at midnight to submit a previous day's report next morning.
Global Operation Center in Philippines
E-guardian Philippines has provided several services such as customer support for cross-border e-commerce and game. As E-guardian Philippines has played a role as the base for global development of the E-guardian group companies, it has achieved remarkable growth, especially, in online advertising management and services related to internet security.
Ad Placement Sites Check
Ad placement sites check service that implements brand safety of internet advertisements
While the market for programmatic advertising such as ad network/listing advertisement/affiliate advertisement is increasing year by year, the problem that the advertisement is unexpectedly distributed to illegal websites is also increasing. E-guardian checks if the websites and videos to which the advertisements are submitted are not illegal or do not use expressions which can cause damage to the brand of the client based on the judgement standards. We protect the soundness of Internet advertising by distributing ads to appropriate websites.
Business Flow Chart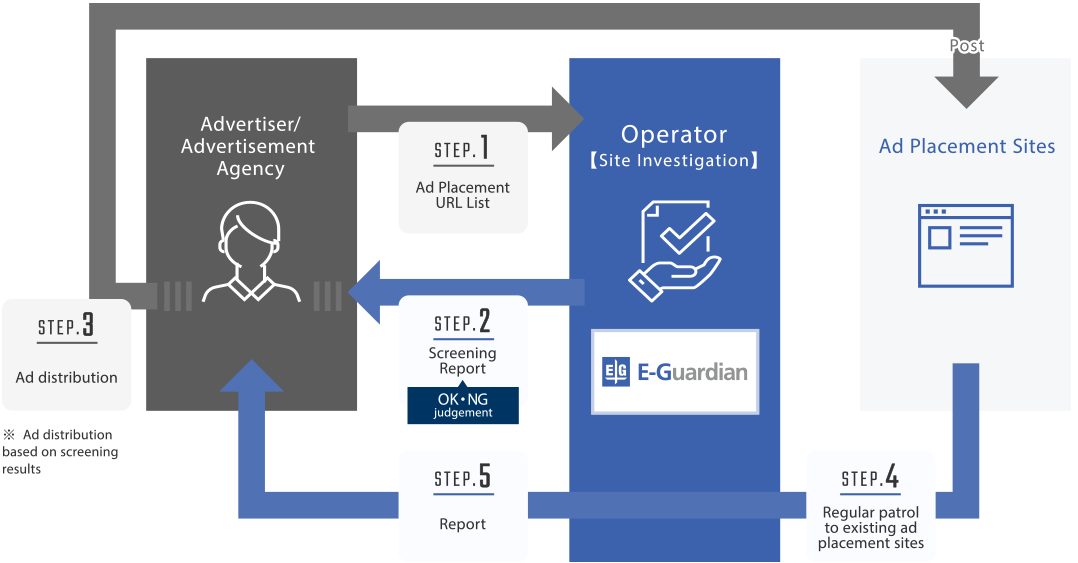 Proposal and creation of the check items and judgement standards
As various kinds of website checks have been done, it is possible to offer based on experiences about necessary check items and judgement standards. If you do not have the check items and judgement standards at hand, we will deal with from the creation.
Website review and routine inspection
Regarding the website applied for new registration to such as ad network, the review will be done comparing to the check items. Also, about the website that has already registered, by patrolling regularly, the soundness can be kept. Also, using know-how which is cultivated by watching posting, it is possible to respond about the judgement which is needed special knowledge such as Pharmaceuticals and Medical Devices Law.
Check of destination of advertisement delivery 24 hours a day, 365 days a year
We implement advertisement delivery to appropriate sites by checking the sites based on the check items and decision standards in accordance with the URL list of advertisement delivery which your company provides. The above is available on Saturdays and Sundays or at night because we are available 24 hours a day, 365 days a year.
Advertisement Inspection
Content patrol carried out by staff with expert knowledge
We patrol advertisement of variety of field from advertisement on banner LP (landing page) to articles of web media. Because E-guardian is a member of Japan Interactive Advertising Association (JIAA) and Japan Advertising Review Organization (JARO), we can catch the latest low change and trend information very early. We fully support your advertising with specialised teams of certified Pharmaceutical Affairs Law Administrators. We offer also consulting that extract problem, operational design and reporting as well as proposal of advertisement insertion criteria appropriate for your company.
Business Flow Chart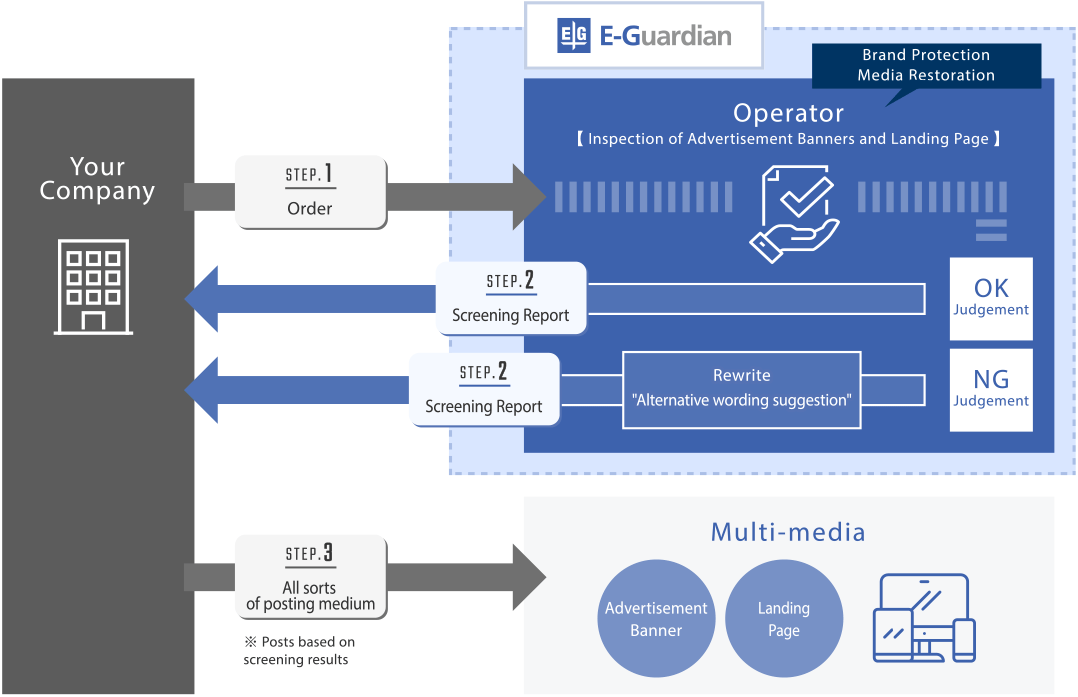 Cover advertisement, LP checking, articles and contents of web media
We support soundness and brand safety by carrying out screening of banner ads, LP, articles, and contents. We check publication standard, the reliability of the articles, and intellectual property right infringement based on Pharmaceuticals and Medical Devices Law (former Pharmaceutical Affairs Law). We also contribute to improving the value of the website in long-time perspective by detailed reporting of every task we offer.
Rewriting by certified professional team
In addition to the ad publication standard based on Pharmaceuticals and Medical Devices Law (former Pharmaceutical Affairs Law) and Law for Preventing Unjustifiable Extra or Unexpected Benefit and Misleading Representation, our checking also incorporates the characteristics of the media the ad will be published. We offer not only results in NG or OK but also with touch-ups by an experienced professional consultant and follow you up in detail such as pointing out sections that may infringe the law, proposing alternative expressions, and sharing information on related regulations.
Patrolling image copyright infringement with AI
Businesses are using the image content detection system "Kiducoo AI", able to automatically assess image data, including images used in social media and online advertising, to prevent theft and copyright infringement of logos and characters used in the products, services, and advertisements they offer.
They praise the high detection rates, with character detection at 96.41% and logo detection at 83.52%.
Support available 24 hours a day, 365 days a year, including Saturdays and Sundays.
Due to the country's published "Work Style Reform" policy, the reduction of work hours in advertising operations at many companies has become a major issue.
Support at E-guardian is available 24 hours a day, 365 days a year, including Saturdays, Sundays, and evenings. Furthermore, since they operate at 4 locations around the country, they are able to quickly begin their work without delay from the time when an order is placed.