Customer Support
Cost-Efficient Service Pricing to fit your Budget.
E-guardian has the ability to handle a wide range of your daily business needs; from making quick reservations to providing technical support which requires in-depth knowledge about products and services. Our accumulated knowledge allows us to provide consistent, 24/7 round-the-clock, high quality support for services of any scale. All services are custom-made, based on our shared operation to fit our clients needs both for quality and budget.
Cases of Shared Services Introduction or Implementaiton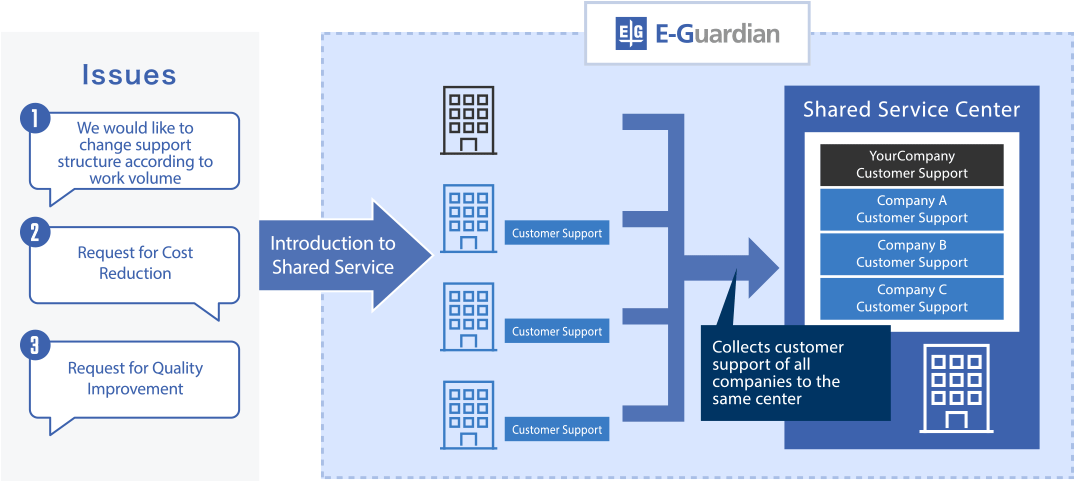 A high-quality, low-cost system that operates 24/7, 365 days a year.
E-guardian understands website concepts, users, and trends in inquiries, and additionally has created an "Operation Manual" compiling FAQ and flow of reports. We offer support 24 hours a day, 365 days a year. Furthermore, we offer a shared plan for incurred charges that provides support for 100 occurrences per month, providing a cost-effective framework to start from.
Optimized FAQ and Inquiry Forms
We offer web service improvement by implementing knowledge gained from our extensive support experiences and based on the many inquiries we receive every day. Specifically, this means that we collect and analyze inquiries from clients, and, by adding common ones to our FAQ, reduce the number of similar inquiries. Furthermore, we also offer improvements for inquiry forms such as improving entry field content and form organization in order to create an environment where users are less inclined to go astray.
Global Operation Center in Philippines
E-guardian Philippines has provided several services such as customer support for cross-border e-commerce and game. As E-guardian Philippines has played a role as the base for global development of the E-guardian group companies, it has achieved remarkable growth, especially, in online advertising management and services related to internet security.
Game Customer Support
Staffs with over 10+ years of Gaming Experience to Support your Operation.
E-guardian promises to build a support team well versed in the needs of your channel and company. Our support also comes from the complete understanding of player's mindset as well as knowledge garnered through over 10 years of operation experience on various support channel such as "e-mail", "telephone", and "chat". At the same time, we can flexibly build a plan and team that will match your budget and needs.
Business Flow Chart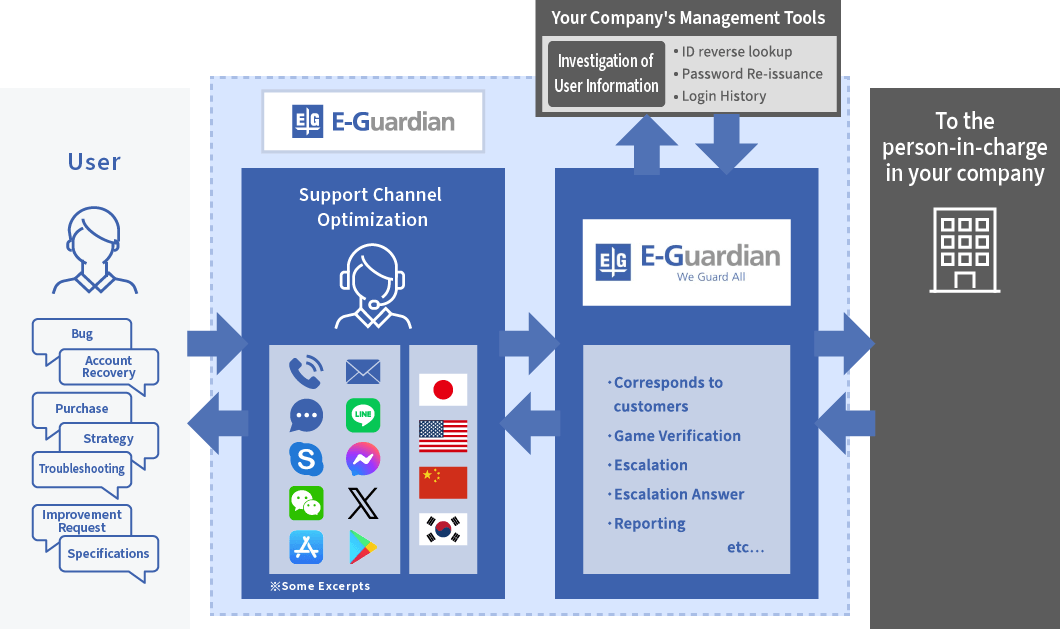 Selecting optimal channel and supporting in a flexible manner
As we support users on your behalf, we propose optimal channel depending on the situation and the range of support by utilizing email, telephone, SNS, and chat tools We also ensure smooth communication with users by changing the response speed and reply details depending on the contents or feeling in the actual responses.
User-oriented Customer Support
In order to answer players needs, we offer services for all stages of development from creating templates, FAQs, and flow, we also offer services for game updates as well. Furthermore, all our services is done 24 hours 365 days regardless of holidays.
A One-Stop-Solution from Debugging to Customer Information Search
We offer a wide range of support, including responding to users' inquiries, debugging with the actual devices, and searching customer information to reduce your workload.
From "language and culture" to "localization and culturalization"
Localization is not only about translating the text or UI of a game. We capture the essence of each character and ensure that their personalities, such as habitual speech patterns and dialects, don't become lost in translation. From our localization team's rich knowledge of games and language, we can preserve the developer's original game design and allow the players to enjoy a truly "localized" game, the way it was meant to be experienced. In addition to this, our specialists with their rich knowledge and experience in gaming, together with our writing team and their experience in quality assurance, assist the localization team to contribute to the overall quality of our final translation. Furthermore, by understanding the diverse cultural needs of the target demographic for your game, we are able to "culturalize" your product and adjust it into a more familiar, comfortable, and playable form for the target audience.
Multilingual Support
Japanese Quality Multilingual Support
Including centers in Japan, E-Guardian holds centers throughout Asia to provide multilingual support in languages such as English, Chinese (Traditional and Simplified), and Korean for companies with businesses overseas. Quality is ensured by Supervisors assigned to each company who will oversee that a cost-efficient, Japanese standard operation will be provided.
Business Flow Chart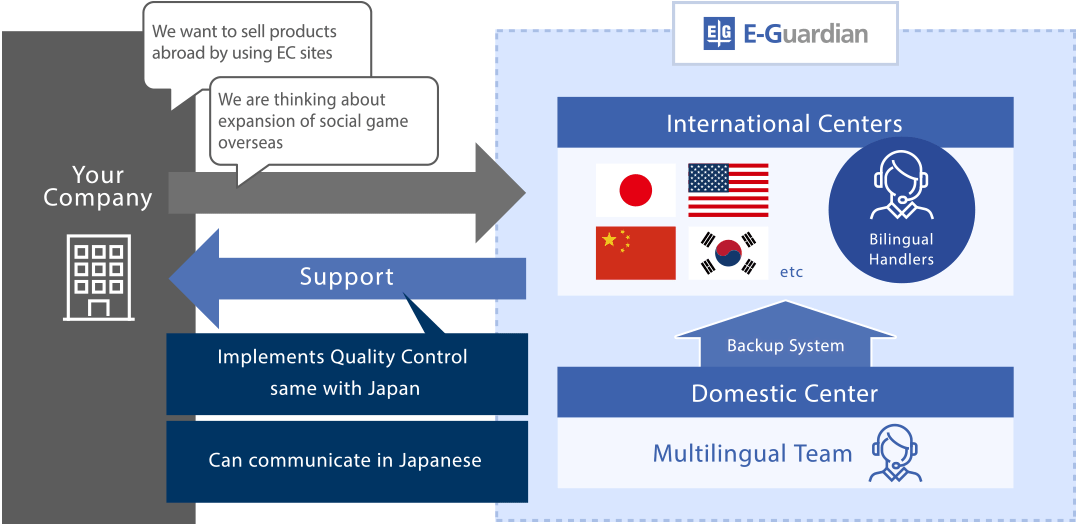 Advertisement operation・WEB marketing business
Including advertisement operation, we provide business-related WEB marketing. We are capable of supporting an advertisement entry management, representing advertisement reviews, monitoring posts, and a rumor investigation in multilingual.
Support for starting business abroad
Our strength is a support to social game company and Fin Tech company. Regarding social game, we are supporting comprehensively from localizing website and application to debugging, support for user and support of marketing.
FinTech company works on the service of authorizing a person for all the people in the world in exchanging virtual currency. They also do not miss the business chance by working 24 hours in 365 days.
Service of supporting Internet sales abroad
For the companies that develop EC business, they provide a service of supporting sales abroad. They support the works necessary for management of Internet shop abroad comprehensively ranging from management of SNS promotion to customer support, translation of website and inventory control.
---
Strengths and Points of Services
1 Low cost operating
By the operation in the Philippines center we manage to reduce the labor costs. You could save your cost using our shared service combining seat number contract which our exclusive operators will respond or press and slack business with other businesses (available from initial cost 50,000 yen).
2 Operation quality
For E-guardian, the operator who made the top-level achievement within the country resides as a manager of overseas offices and realizes quality management same as Japan. Since bilingual SV translates working manuals or operation flow, etc., it is possible to apply domestic knowledge as it is.
Chat Support
Provide support in order to improve the satisfaction of our users by making use of the quick responses through chat.
Chat is drawing an attention as a new channels receive customer contacts since it clears customer complaints such as "the phone is busy" or "response on the email is slow".
E-guardian helps improve customer satisfaction sorting out the questions from the customers by by selecting the best chat tool to your company, and chat pod introducing support and 24/365 operating.
Business Flow Chart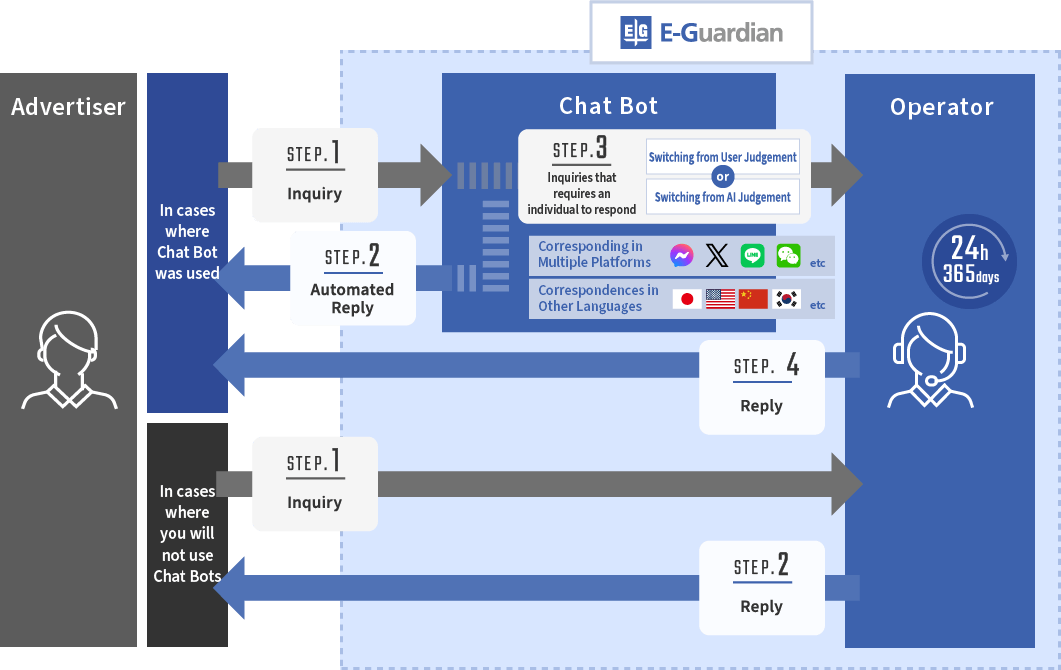 Introduction and operation of chat tool
In introducing the chat tool, it is possible to consistently support from selection of the best tool to solve your problem, preparation of response manual assuming customer inquiries and chat operation. In addition, we analyze user 's opinions, such as requests and complaints and propose suggestions to improve service and improve customer satisfaction through this.
Automatic response using "chat bots", reducing costs
By making use of automatic responses from "chat bots", and minimizing responses by people, we implement cost reduction. The instructor data of chatbots make it possible to provide a FAQ that was built using knowhow that has not been adopted until now. In order to analyze inquiries that cannot be replied automatically, the AI trainer continuously updates information and can raise the quality of responses further.
24 hours a day, 365 days a year realtime communication
Inquiries from customers produces a time where the business is not earning, like during the night and on weekends and holidays.
At E-guardian, realtime communication in a 24 hours a day, 365 days a year system is possible. It decreases the risk of missed business opportunities and lowering customer satisfacton due to the absence of responders.
Active Support
"Action to comments posted online. Promote "fanization" of players through assertive communication.
It's a service where we actively follow up or respond finding posts related to your company such as "requests", "complaints", "reviews" etc. on social media like Facebook or Twitter etc. The posts on social media could be expanded widely without reaching out to companies directly so it will be hard to improve this issue timely by just waiting for our customers to contact us. In E-guardian, we actively communicate exaggerating uploads that require our responses out of tremendous numbers of them and build a long term trustworthy relationship between your company and the customers to get your "fans".
Business Flow Chart
Creation of management design to increase customer satisfaction
A system to carry out active support and a specific method of responding to customers differs depending on the product, service, target customer, direction of inquiries etc.
The E-guardian makes good use of their rich experience in the realm of customer support, and after organizing the issues of each business to "enhancing responses to complaints" "stimulating the transformation to fans" etc, we carry out management design such as the "response policy" "reply manual" and the like.
Making customers/users "fans" of your company by active communication
Post about products and service of your company will be collected from posts on social media, using know-how earned through post monitoring and social listening. Having active communication for action requiring voice like "Complaint" and "Question" in accordance with the operational design, long term communication with customers/users will become lively and change them into "fans" of your company. We contribute to improvement of customers' satisfaction, making principle and flow of customer care better and suggesting improvement of products and service.