The Service's Strengths and Points
1.)  Container Type
The WAF in Container type makes it possible to make comparison based on provision type.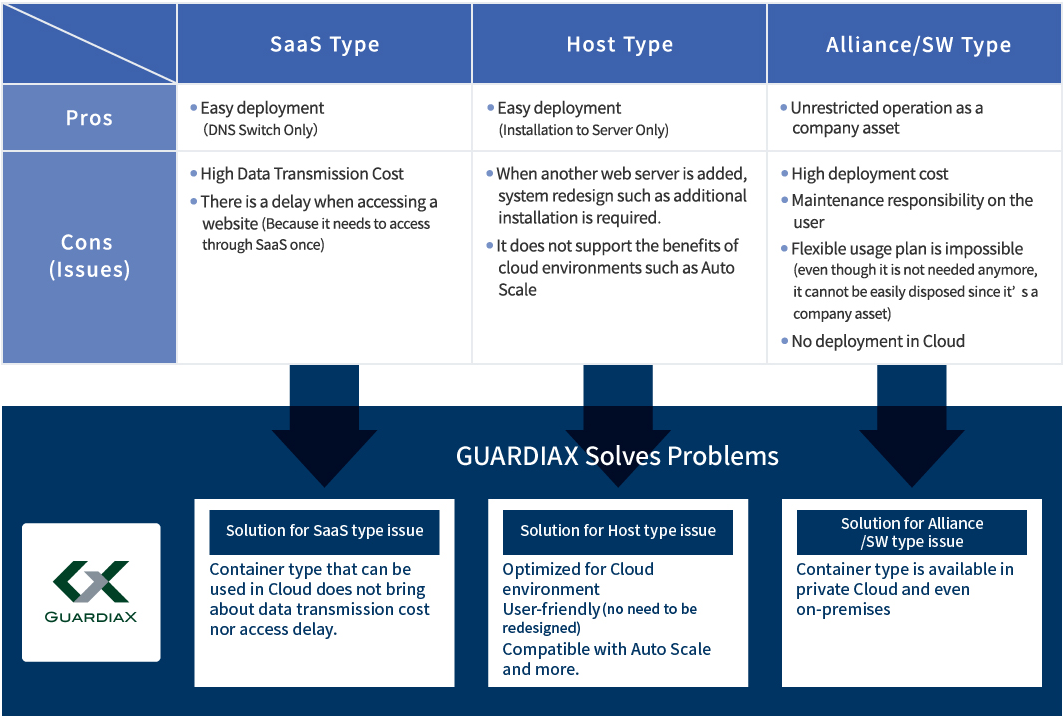 2.) Advanced WAF signature
With advanced log analysis, it can detect and prevent attack signatures through pattern matching.
3.) Cloud Native Support
Container type can operate with Kubernetes and support auto scale. Also, Container type allows the WAF to be adjustable according to the usage of the system leading to high cost performance in various situations.
Next-generation WAF adaptable and applicable to any circumstances
"GUARDIAX" is a next-generation firewall product that uses AI to protect web applications from cyber-attacks. Conventionally, engineers have two dilemmas for the Cloud WAF.
Existing WAFs cannot make the most of Cloud diversity
WAFs provided by Cloud providers have complicated settings and operations that lead to errors
Our product conquers these two dilemmas by providing the WAF in Container type. This is the first commercial version of the WAF in the Japanese market * 1 In short, the WAF can be easily introduced into any circumstances regardless of On-Premise or Cloud environments, and is a easy to be managed.
The product has two types, SaaS type and Container type, which makes it possible to flexibly adapt to both the small-scale and the large-scale systems * 2.
In addition, Hiroshi Tokumaru, a pioneer in the field of Web security, supervises this product as a security advisor utilizing knowledge backed by field experiences at the forefront of security.
Container type service image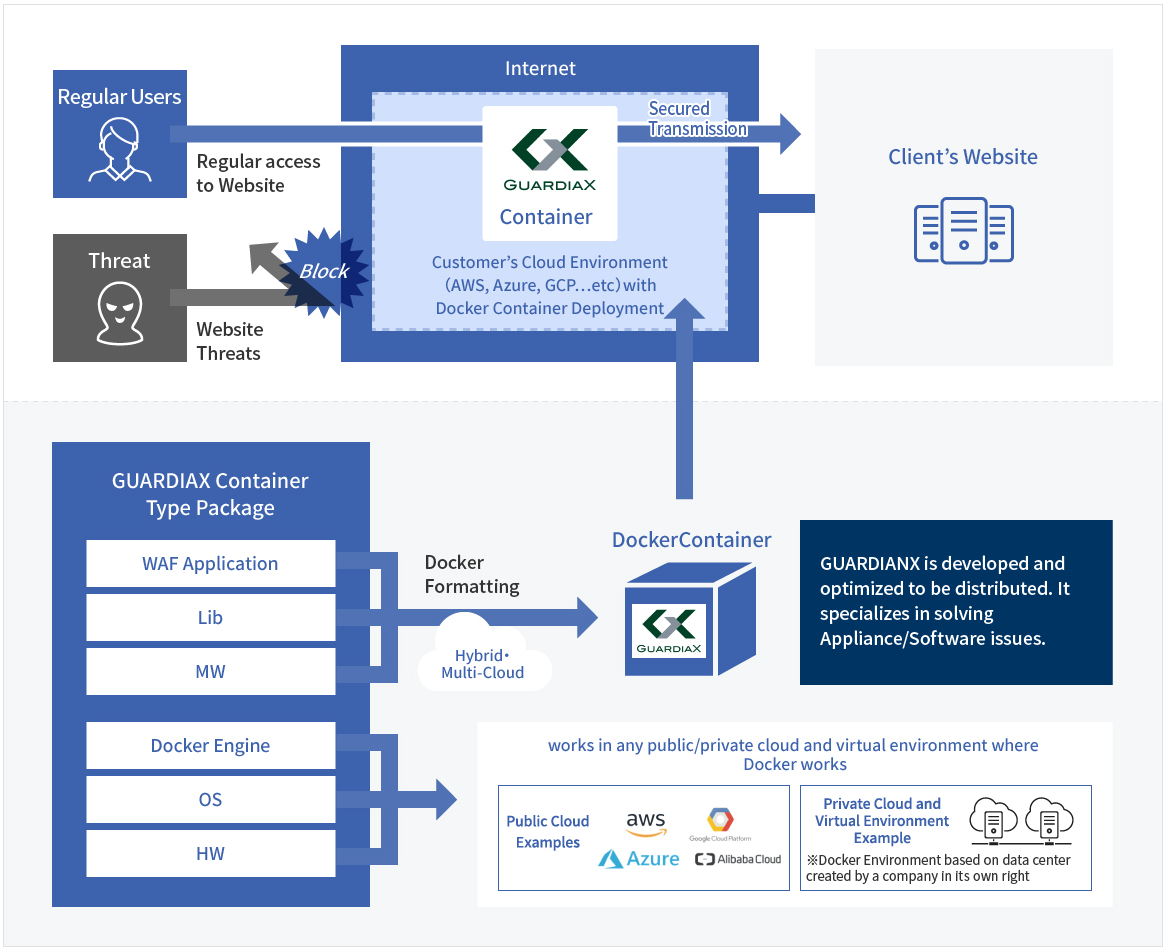 SaaS type service image

The Service's Strengths and Features
1.) High detection rate achieved by Threat Intelligence function linked with WAF engine and global threat information Database.
Quality protection provided by the high-performance WAF engine dealing with diverse attacks and threat information analysis linked with about 100 types of Threat Intelligence (TI) DB make it possible to detect threats with high probability.
2.)Prevention of personal information leakage.
The WAF "GresCloudWAF" can detect and prevent personal information leakage by monitoring data sent from the web server. It minimizes the risk of personal information leakage such as My Number and credit card number that can be possibly leaked through the web server.
3.) Self-management function.
The WAF "GresCloudWAF" offers a portal site where settings like FQDN, Server IP, Port, and Protection function can be changed on the user's end. In the portal site, you can self-manage information on protected sites and various filter settings. Changes in the portal site can be done free of charge and reflected immediately.
Based on PCSI DSS, compatible with the latest OWASP TOP 10. It is equipped with not only WAF※1 but also multiple functions.
This product is a firewall developed to protect websites (web servers, web applications) from threats such as cyber-attacks. In recent years, cyber-attacks on websites have been increasing. Many of them are caused by unauthorized access targeting vulnerabilities in websites. It directly leads to a big impact on business. For example, if it happens in online shopping sites, it results in not only opportunity loss but also a serious problem that has a great effect on social credibility due to information leakage. This product quickly deals with the latest attack methods that evolve every day and blocks various attacks to websites as well as OWASP TOP10.
Service outline diagram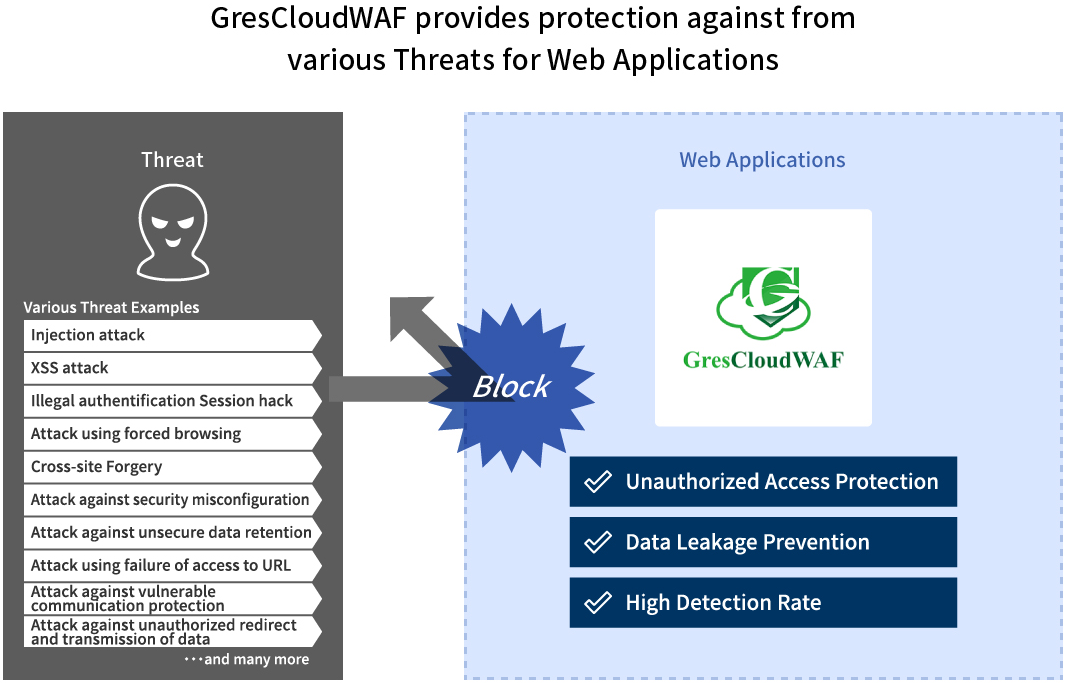 Service provision image