Manned Monitoring Service
10,000,000 post monitoring results per month. Net patrol that professionals are watching over for 24 hours a day and 365 days a year
E-guardian, which has a 24 hours a day and 365 days a year monitoring system, is a professional group of net patrols boasting more than 10,000,000 accomplishments per month. We quickly adopt AI in the industry, utilize post monitoring system "E-Trident" and AI-type Image Recognition System "ROKA SOLUTION" developed through the collaboration of industries and universities, and correspond quickly through the use of "AI and People".
Business Flow Chart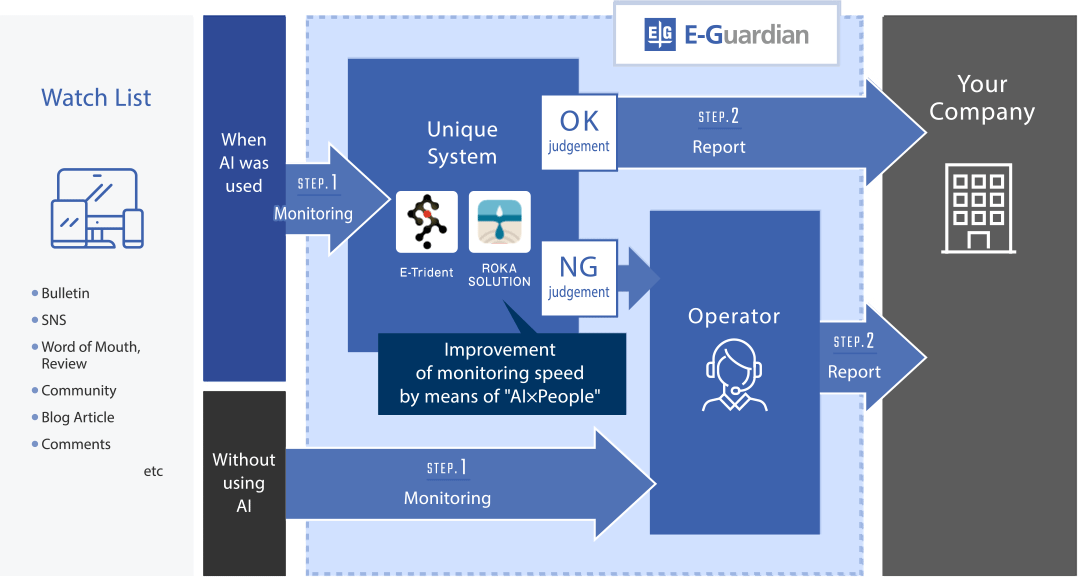 SNS and Community Sites Post Monitoring
Checks texts, images, etc. posted in community sites, SNS, etc. managed by your company, and judges post validity, whether there is inappropriate contents starting with groundless slander. In addition, through utilizing "E-Trident", the system specialized for monitoring, it is possible to reduce the total monitoring cost by narrowing down to only specific suspicious posts.
Review Post Monitoring
Judges the post validity of word-of-mouth information by context such as reviews and reactions on products or services posted in EC sites, forums, etc.
Image Post Monitoring
Judges post validity, whether there is an inappropriate content such as adult, grotesque, slander, or induction to other company's site, and infringement of copyright or image right. In addition, by utilizing "ROKA SOLUTION", it is possible to improve detection speed through automation.
Business Mails Monitoring
By using "E-Trident" in monitoring mails sent from companies such as Microsoft Outlook and Gmail, it is possible to quickly detect information leakage by malicious employees and employee's worries regarding mental health, and reduce risk.
Global Operation Center in Philippines
E-guardian Philippines has provided several services such as customer support for cross-border e-commerce and game. As E-guardian Philippines has played a role as the base for global development of the E-guardian group companies, it has achieved remarkable growth, especially, in online advertising management and services related to internet security.
Monitoring and Report Correspondence for Games
Monitoring Services specialized for a Healthy and Safe Game Environment
We aim to create fans for your game by providing a healthy and safe game environment by utilizing our knowledge gained from over 20 years of monitoring experience. Our support extends from planning monitoring standards and to running the operation itself. Monitoring and in-game patrolling is done by our game masters who investigate reported problems by attempting to recreate the same environment using the same device as players. Monitoring can be conducted at any time including night times.
Business Flow Chart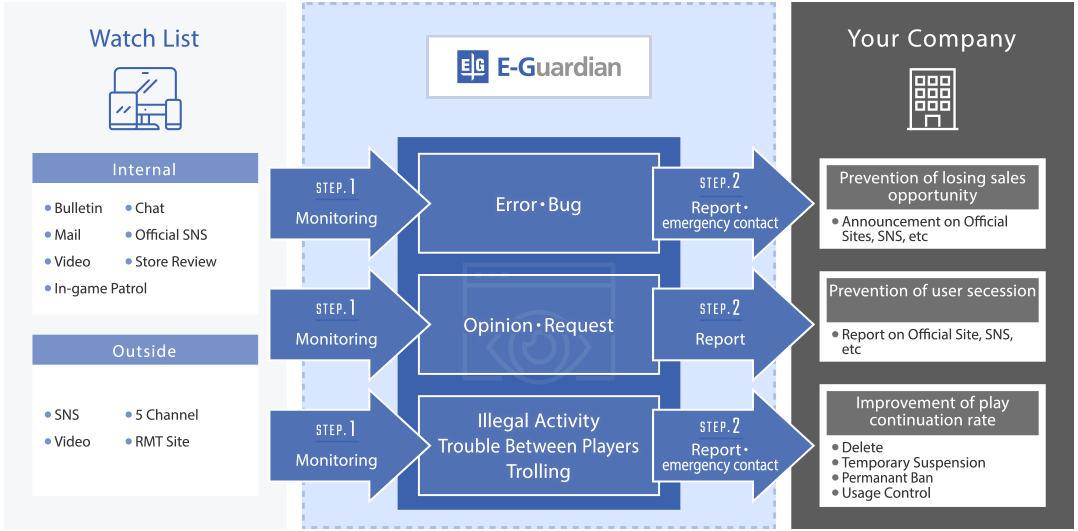 Fraud and Defects Check Within and Outside Games
We support stable management of game systems by checking "User's voice" posted on not only on bulletin boards and chats in the game but also on external bulletin boards such as 5channels and SNS, and quickly detect information that can lead to illegal acts, problems or troubles between users.
RMT research is also available. When we detect RMT information from external bulletin boards and SNS posts, we will report it promptly.
Establishment of Game Master
For an enjoyable gaming environment, a game master can be assigned to patrol within the game on a regular basis. Not only are they capable of handling user inquires, game masters contribute to substaining a healthy competition within a game by warning or account cancellation of any user who performs nuisance or illegal actions to support the play continuity rate. They may also speak to suspecious "users" who may be BOTs suspend those accounts deemed of one.
Video Monitoring Service
Immediate checking of large amount of uploaded videos, 24 hours per day for 365 days
We handle massive amount of movie observation 24/7 ranging from video sharing services such as YouTube to the real time distribution such as live commerce, live chat, etc. Let alone the image check, based upon the judgment standard by maximizing the know how in the post observation, we will support the healthiness of the expanding video market by checking in appropriate remarks and audios such as slanders without failure.
Provision of the work efficiency by "AI x human" by optimizing the new AI function specialized for movie observation called "TextVoice".
Business Flow Chart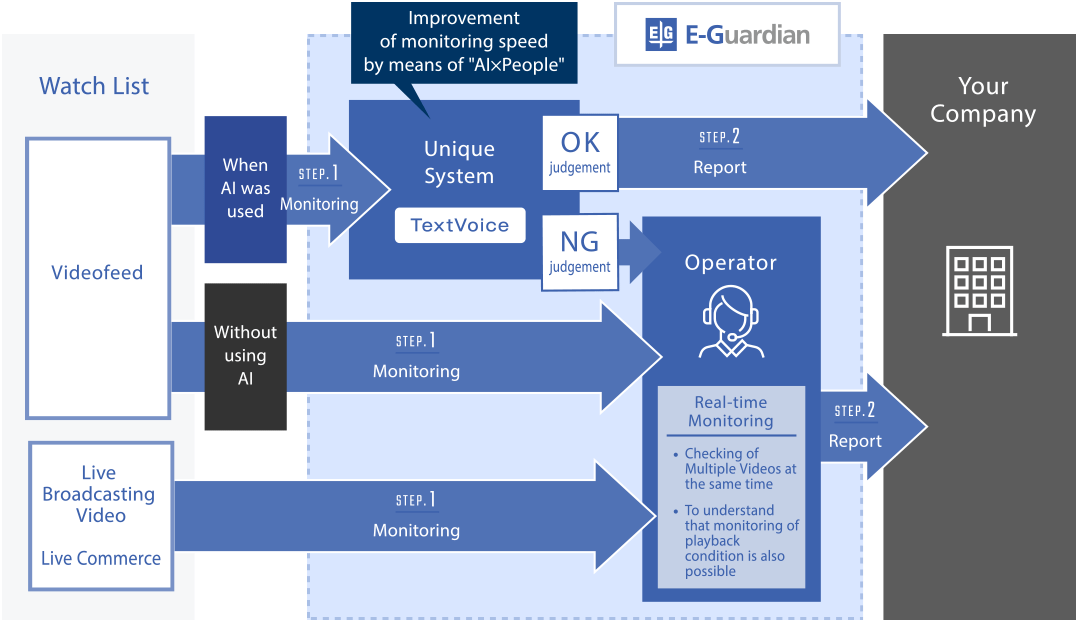 Video Post Monitoring
We monitor videos posted in video sharing services such as community sites and YouTube operated by your company. If it contains an inappropriate video problem such as slander, adult video, and post that violates copyright or image right, we perform correspondence such as creation of delete request message.
Influencer Patrol
We regularly patrol video broadcasting of YouTubers and video creators for enterprises that deliver influencer marketing. We support securing of soundness and reliability of contents such as checking whether there is inappropriate video or remarks, or whether there is copyright infringement, that includes up to the judgement of "quote" and "reprint".
Monitoring of Live Videos
We monitor videos posted in live broadcasting services such as Live Commerce, TwitCasting, and LINE LIVE in real-time, and if there is any inappropriate video problem, we perform correspondence such as banning the user account and creating delete request message.
Harmful Rumor Investigation
The monitoring result is over 10 million monthly. Precise check by "AI and human" precision check
To prevent quickly online flaming and negative reputation without reason that bring huge risk to a company, it is necessary to monitor SNS, threads, weblogs throughoutly and detect "risky posts" in earlier stage. By E-guardian with more than 10 millions of monitoring experience "risky posts" will be collected by variety of tools and early detection and prevention to "flaming" and "negative reputation without reason" will be supported by precise investigation combining AI and human power. Collected "risky posts" can be investigated from the requested perspective like "internal cause" (for example information leak) and"external cause" (for example complainment). We advise and suggest reacting measures, analysing reputation about your company and depending on the real examples from past.
Business Flow Chart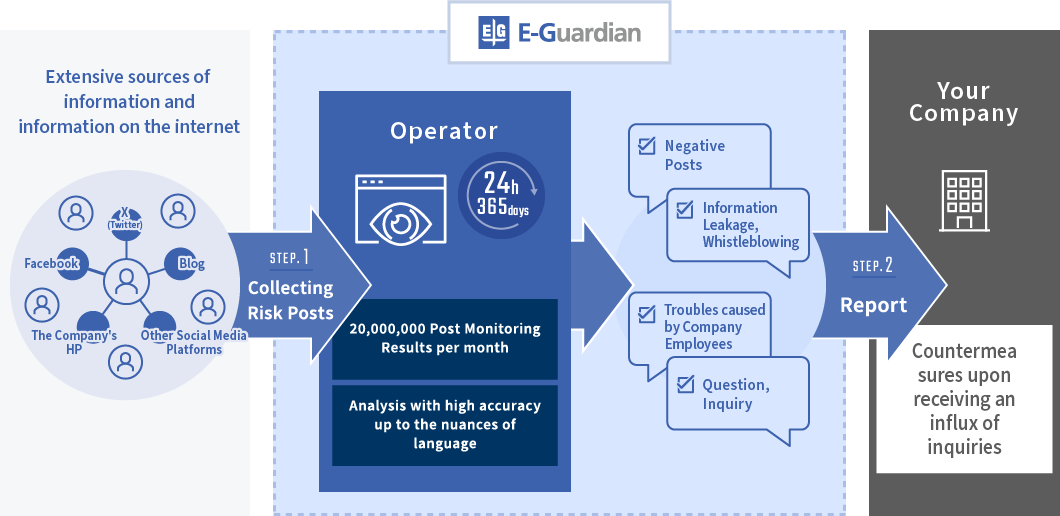 Investigation of internal cause (information leak, Whistleblower, etc)
We monitor "information leak" and "Whistleblower" by not only employees of a company but also teachers of juku (private school for support of school work) and franchise owners of convenience stores.
Investigation of external cause (reputational risk and complait, etc)
Negative posts such as "slande"r and "negative reputation without reason" as well as "voice of customers" such as complaint to service and impaired goods will be monitored. "Risky posts" which require quick measures will be detected.
Anti online flaming support
We offer also training for your employees and make for you company a social media policy. We support you by "information leaking" which has the highest risk of flaming.
---
Strengths and Points of Services
1. Rich know-how of internet monitoring
Our operators are professionals of internet monitoring with more than 10 millions of monitoring experience per month.Sensitive meanings of words that are difficult for tools to detect are investigated and analysed precisely, for operators who have earned high level of text understanding ability are checking by their eyes.
SNS which requires log-in and therefore cannot be checked by tools will be checked by operators. We cover threads like 5chan as well as social medias like Twitter and Weblogs and "risky posts" will be collected, investigated and analysed.
2. Large scale structure
We E-guardian provide a large scale system to work on unexpected online "flaming" as quick as possible. 20 monitoring centers are on work in 6 cities in Japan and 8 cities oversee. With out overwhelming amount of human resource "risky posts" that bring your company danger are to be detected among millions of post on SNS, threads and Web logs.
In monitoring centers operators are working 24 hours 365 days with their highly precise human check ability. In case of "flaming" happening we will react quickly and report you in real time.
3. Operational efficiency
We will perform the post monitoring work efficiency by the respective tools to accommodate your needs and visual check other than AI system such as "ROKA SOLUTION" the AIimage regonition system.
Also, through the high precision visual check, comments can be analyzed by categorizing comments into details. So purpose oriented reporting is available by understanding the contributor's tendency to use it for countermeasures, etc.
Identification Services
Quick response for 24 hours a day and 365 days a year. Identification services such as virtual currency exchange, and matching service
In E-guardian, while making use of the accumulated know-hows on personal identity authentication from the emergence of matching sites in 2011, we will conduct personal identity authentication sevices in the exchange of vitual currencies as well as in matching services.
With services rendered for 24 hours a day for 365 days a year, we can contribute to the document acquisition rate by quickly responding to on inquiries from making guidance mails, checking of deficiencies in the contents of documents, re-submission requests.
Also, with well-versed and experienced staff members on advanced technologies such as block chain technology, providing technical support and background checks using original data base are also possible.
Number of identifications done this month: 90,000
Business Flow Chart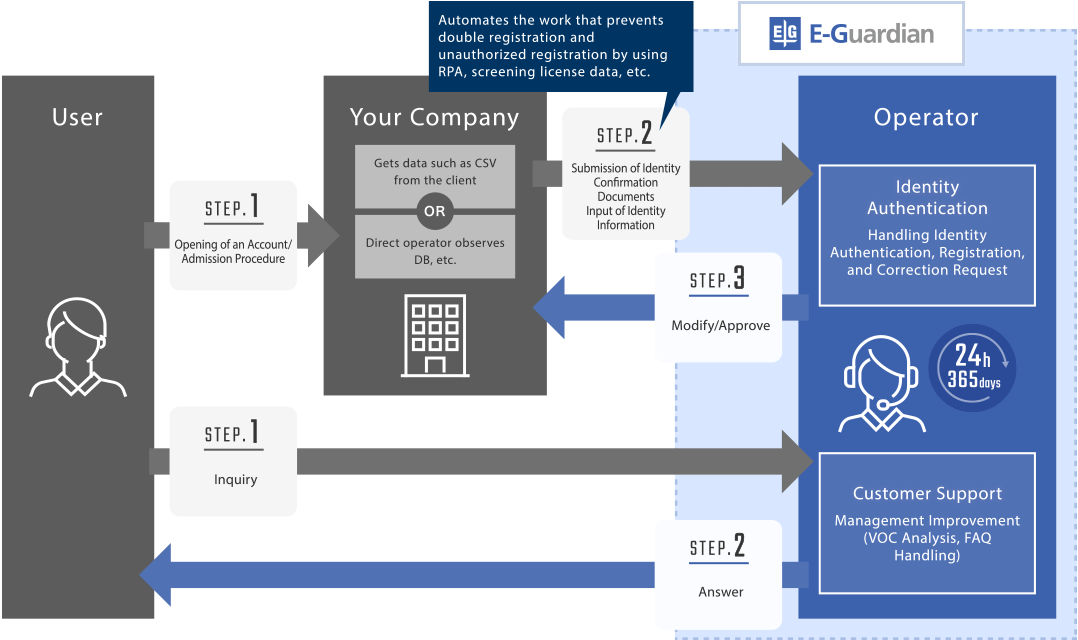 Identity Authentication Services by highly experienced staff members
Staff members with rich experience in businesses related to virtual currency exchange as well as matching service will check if the data found in membership information, identity verification documents, and foreign settlement confirmation documents matches, then conduct identity authetification. This will prevent unauthorized registration as well as registrations made by minors below the age of 18 should there be any mismatch found in the registration.
In addition, E-guardian is an active member of the BCCC (Blockchain Collaborative Consortium), and with staff members knowledgeable on block chain technology supporting virtual currency, it is possible to provide technical support specialized in FinTech.
Background Check Using own Database
We can perform a consistent confirmation work by implementing "Personal Identification" and "Background Check" at the same time. We utilize own database that checks company and individual antisocial problems, check authenticity of member information and all sorts of documents, and prevent illegal usage and poser accounts.
Structure Formulation on 24 hours a day and 365 days a year Correspondence
In order to respond to the demand due to the rapid increase in the number of applications and to improve the convenience of users, correspondence to "Personal Identification" as well as the related works "Background Check", "Customer Support (correspondence in multiple languages is also possible)", etc. in 24 hours a day 365 days a year system is possible as well.
Sales Agent and Franchise Store Screening Service
Screening service, which also supports initial registration and regular patrol, for finance, insurance, and EC business operators
We also implement regular on-going patrol after registration as well as "registration examination" at the time of new registration by checking if WEB sites owned by sales agents or franchise stores are appropriate, if they are providing information that violates related regulations, etc. Since we also have a system that can automatically extract sites updated by RPA, it is also possible to quickly detect violations by "advanced technology and people".
Business Flow Chart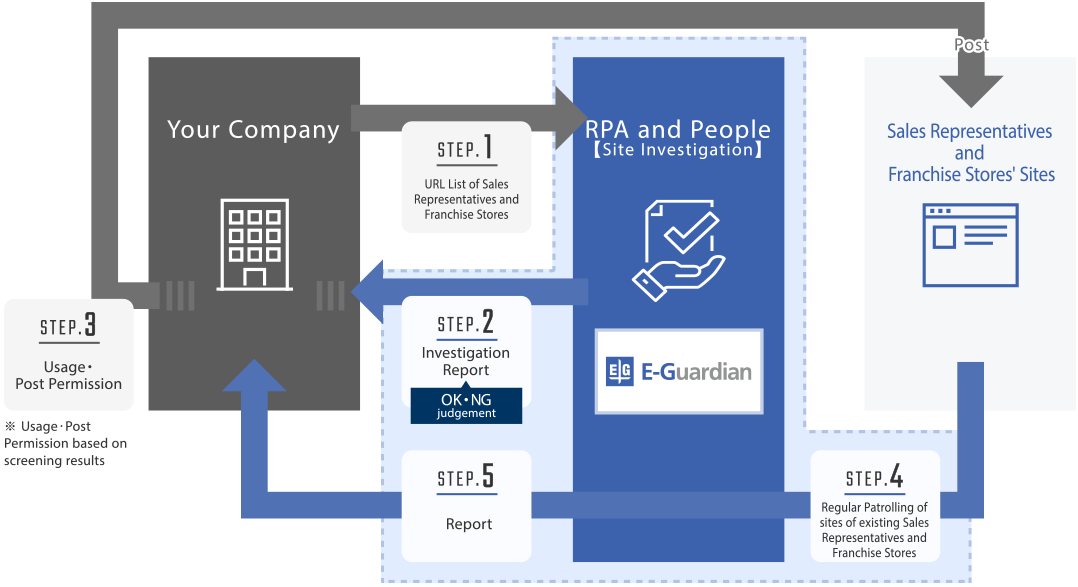 Automatic Detection of Updates through RPA System
By using RPA System, we automatically patrol registered sales agents and franchise stores, and extract sites with updates. We can quickly detect if there is violation in advertisements and contents by the checking of extracted sites performed by operators. In addition, it is also possible to customize RPA according to demands such as extracting capture images collectively.
Operational efficiency support by deputizing the registration screening
We provide support to accelerate your work efficiency by deputizing the screening process at registration to see if the website a company which apply for sales agency/ affiliate registration obtains is appropriate or not. We check any adult contents and violations of related laws along with the screening standard. We are able to perform the work starting from listing up the websites for screening as well.
Regularly Patrolling Registered Websites
Regular patrolling is conducted as to whether there have been changes made with the the contents of the website after the registration examination. We also check malicious contents, such as whether there is inappropriate link destination found in advertisement in the registered sites, whether there are illegal items found in the Deep Web, and whether the URL is intentionally used beyond its intended purpose.