Social Media Management Design Services
Provide total support from the creation of Media Policy to the operation and analyis of various SNS
To match the introduction and management goals for social media such as Facebook,twitter,LINE,YouTube etc., we proactively give detailed support to the necessary planning of management while reducing risks, such as the creation of the social media policy and Usage Agreement, the personal design of characters, the building of systems etc.
Also, starting with a 24 hours a day, 365 days a year management by proxy system, we can provide a one-stop service from checking inapproppriate comments to replying to comments, as well as making reports.
Business Flow Chart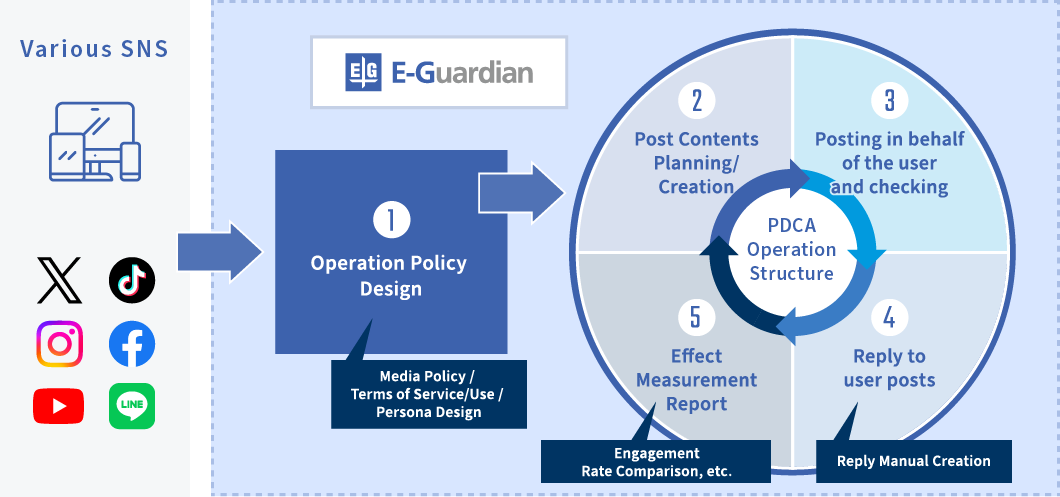 Creation of Media Policy and Usage Agreement
By creating the Media Policy that collates the management policy of a business, wr out efforts into raising the awareness of employees who manage the media and standardize the quality of posts.
Also, in order to clearly convey the significance of SNS and rules towards the user, we create easy-to-understand drafts that is raised to the user's line of sight.
Creation of posting standards
Our company, who carries out post surveillance of more than 10 million cases in a month, possesses judgement criterion from a risk countermeasure standpoint. We propose posting standards that can achieve compliance.from the standpoint of "Will this cause legal problems? "Will this pose ethical problems?" "Does this go against the management policy?" etc.
We can make analyses and reports not only regarding the management status of your own company's SNS but also the management status of your rival companies.
Building and supporting a management system
From the hiring and training of the people to be in-charge, down to operational tasks such as the creation of rules, character persona design, posting by proxy, replying to comments etc., in order to build the necessary system for SNS management from the ground up.
In addition, we make full use of posting surveillance knowhow to reduce risks of flames negative comments , support a management that capitalizes on the special characteristics of social media, thus increasing user engagement.
Frequently Asked Questions
We want the contents of comments posted in social media to be checked at night and during Saturdays and Sundays
We want to entrust Social Media management to my external counterpart and focus my work (such as planning and development)
We wish to know the social media operation status of my competitors
For Inquiries regarding Services and Quotations
Inquiry
Services List
Consulting
AI Solutions
Cyber Security
Debugging・Rating
Net Patrol (Post Monitoring)
Advertisement Review and Operation Support
Customer Support
Social Media Services
Social Media Management Design Services
Game SNS Operation Services
Social Listening, Competition Analysis"Social Media Analysis"
Game SNS Operation Services
Official account management to improve engagement rate and prevent game abandonment
We carry out the running of SNS accounts and video channels for game makers. In addition to making announcements of game strategy we can help create game strategy contents tied up to influencers such as YouTubers, cosplayers and contribute to decreasing abandonment rate and increasing user engagement
Approaches by user attribute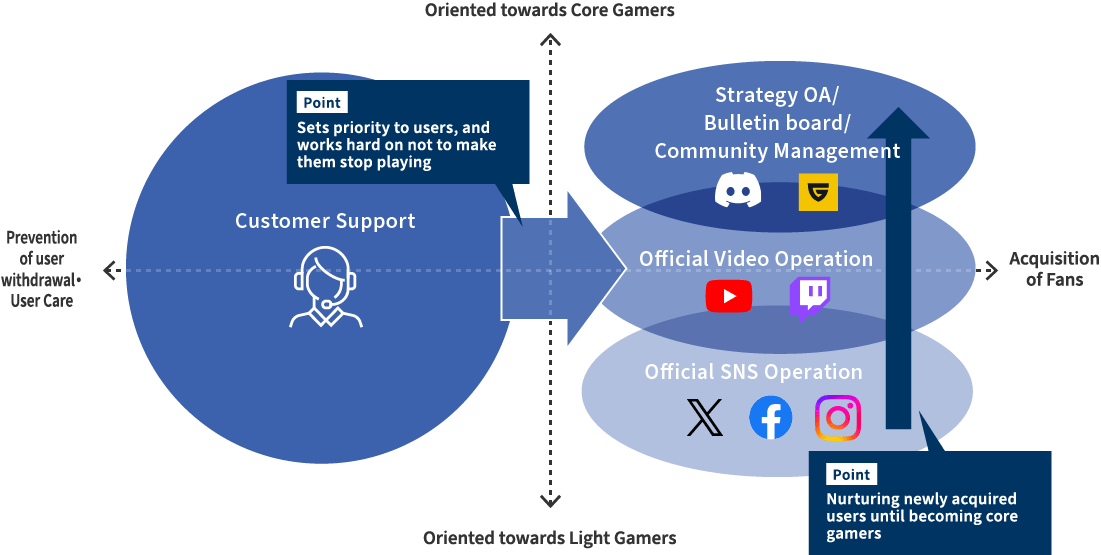 Official SNS management
We run official SNS accounts, such as in Twitter・Facebook・Instagram・Lobi. and offer a wide range of services on each platform such as posting articles on game strategy, annoucing game contents and upcoming events planning and management. By doing so, we contribute in raising and improving user engagement such as increasing the number of followers, friends, likes, comments, messages.
Active support
e provide the service of searching for game-related posts in SNS, and carry out automatic follows and response in order to make sure we do not overlook our users' needs and the source of their problems. We gather game-related tweets, store reviews and the like, and carry out "replies" and "answers" automatically from your company's official account. By carrying out an "agressive user support" we put efforts into lowering the percentage of players who have grown tired and about to withdraw from the game without making inquiries and promote turning people into fans by aiding players.
Operating your official video channel
We carry out the running of video channels in YouTube, NicoNico Douga, Twitch and other video sites. In addition to making announcements of game strategy articles in the same manner as "official SNS management" we can give support to core users such as creating gaming strategy videos for top players or broadcasting live coverage etc. By carrying it out in parallel to "official SNS management", we can make efforts in revitalizing content through mutual usage and supplementing information.
Running a strategy helpdesk, bulletin board, community, and wiki
We make efforts in preventing player withdrawal by making use of strategy helpdesks, bulletin boards, communities, wiki etc, in providing sufficient information in the initial stage such as strategy information etc. to players who are likely to quit mid-game.
From user-contributed information to official transmissions, we can provide a management style that depends on its use.
---
Strengths and Points of Services
1 SNS management achievements x management and planning for specializing in games
E-guardian builds a service that follows knowledge on game management that is based on knowhow garnered from 20 years of the social media business. By having a deep understanding of the special characteristics of SNS, we can do management design suited to your needs such as by composing a "management policy" or "flame strategy manual", as a risk countermeasure to flames, and personal planning that manages your SNS by becoming your character in the game.
2 Operation from setting up SNS-dedicated gamer team and supporting various languages
We set a dedicated team consisting of 20-year+ gamers and will operate SNS from the viewpoint of users. We actively gather gamers as our talented employees on a routine basis and can select an appropriate person for the job. We can also build system for multi-lingual support, including English, Chinese and Korean.
We can not only translate contents but make them fit the characteristics of the country or the region, enabling effective communication with international users.
Social Listening, Competition Analysis"Social Media Analysis
Collection and analysis of marketing data related with the requests, issues, and reputation of our company and other companies' services and products.
We support your marketing business exaggerating "beneficial information" such as requests for services and products and issues etc. out of tremendous numbers of "users' voices" posted on internet walls and social media . E-guardian that has monitoring achievements more than 10 million issues monthly is capable of highly accurate analysing by our operators that have high text reading abilities. We will flexiorespond to not just investigation on the services and products but reputation investigation against tv commercials after launching new products or comparison investigation to the products from other competing companies as well.
Business Flow Chart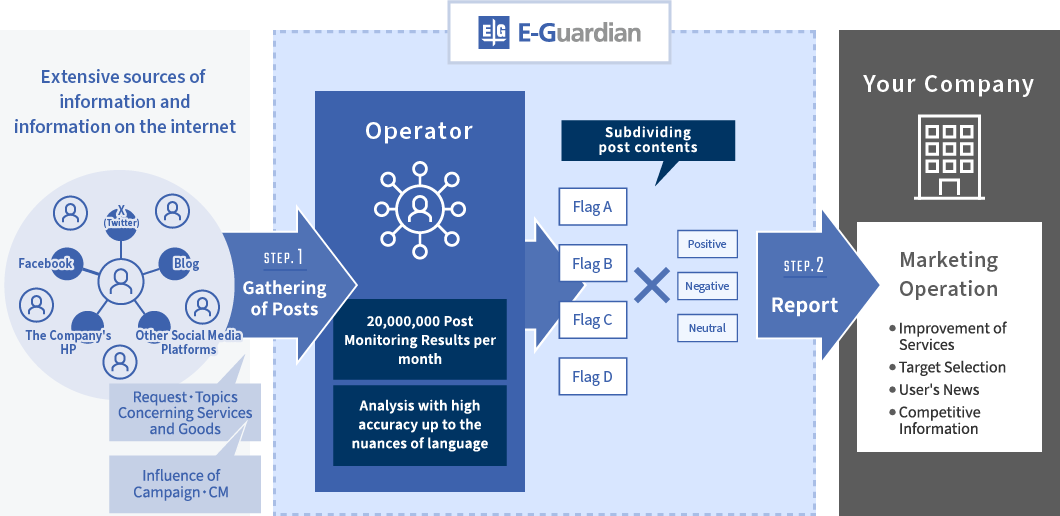 Social Listening
In order to investigate the reputation of goods and services, commercials, and the like, we will collect "user's voice" posted on boards and SNS and make reports in accordance to the use. Utilizing our know-how in monitoring posts, we understand the context carefully then categorize them to present highly accurate analysis results.
Competing investigations
We will do a reporting on your demand collecting news and promotion information about other competing companies from user voices posted on online walls or social media. We are available not just to investigate the items and services of other companies but to report the comparison to the items of your company as well.
---
Strengths and Points of Services
1 Professionals of the Internet Monitoring
E-guardian's operators are professionals in monitoring the internet, with a record of at least 10 million monitoring cases per month. Our operators are highly capable of reading texts and support you on this task.
We can also support bulletin boards requiring log-ins, which cannot be monitored by a tool, by checking them visually. We cover bulletin boards including 5-channel, and social media such as Twitter and blogs, and will collect, verify and analyze data.
2 Collection of information and analysis by system of 24 hours a day and 365 days a year
In E-guardian, by responding in 24 hours and 365 days by 20 bases in 6 cities in Japan and 8 cities overseas, we have prepared the large-scale system in order to be able to respond urgent request, etc.
Also, when you need urgent request or attention for short period, it is possible to respond by constructing the system promptly.