THE HAVOC OF TAAL VOLCANO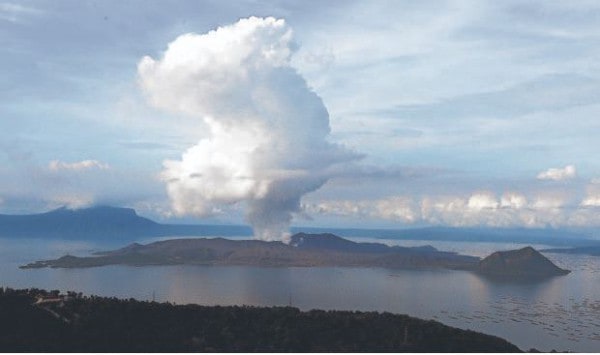 Located in the province of Batangas, Taal Volcano has been deemed an active but passive volcano due to its partial smoke every now and then. It is the second most active volcano in the country and the smallest in the world.
Its beauty can be deceiving as it may come small in size but considered as one of the most dangerous and deadliest volcanoes in the world, thus the Philippine Institute of Volcanology and Seismology (PHIVOLCS) classified it as a complex volcano system. Its giant cauldron-shaped edifice known as caldera is hidden by Taal Lake. A small portion of it sits above the water which is visible to tourists who visit the Taal.
Taal volcano recorded thirty-four (34) historical eruptions in the last 400 hundred years that vary from phreatic to phreatomagmatic. The great eruption of 1754 which lasted for 200 days was considered the biggest and longest of its eruption. It covered four (4) towns in Batangas in ash, volcanic rocks and water. They had to evacuate their towns from May to December of that year. The ashfall deposits that were recorded were believed to have reached 100 to 110 centimeters.
Amongst its most destructive and worst eruption was recorded in the early hours of 1911. This natural calamity had taken the lives of 1,334 people and caused ash fall as far as Manila. Its blast made a great change in the supposedly several openings and lakes of different colors were all gone. Taking its place was a one large lake.
The recent eruption on the afternoon of January 12, 2020 has an alert level 4 that emitted ashes covering Calabarzon, Metro Manila and some parts of Central Luzon and Pangasinan. The effects of it had caused cancellation of classes to those areas affected by the calamity, travel from one place to another became difficult because of the vog/smog that was brought upon by it. Quarantine became a popular term then affecting the areas near Taal Volcano. Medical and KN95 masks were all sold out following the incident, which was then followed by this world known disease called COVID-19. Its effect was somehow manageable but still destructive.
Its recent traverse of emitting smog/vog was on the 1st of July, 2021 around 3:16PM. The alert level was raised from Level 2 to Level 3. The eruption was declared as a phreatomagmatic.
Throughout the history of Taal volcano, its eruptions, its picturesque beauty and scenery, one thing that we have to keep in mind, that as our lives progress with the changes in this futuristic world, our environment should still be kept clean, respected and loved. We have to ensure that we do our obligations by keeping the earth's system of natural resources free from pollution and harmful chemicals. In those simple ways, we can help prevent further destruction and loss of lives if natural calamities happen.
Photo credits: (NIÑO JESUS ORBETA / INQUIRER)